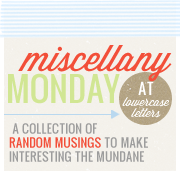 (1) I was so excited for some half days last week to catch up on sleep, blogging, cleaning and lesson planning. All of those, and more than I'll go into detail on here, got in the way last week. But I'm pretty well planned for the rest of the week. So I'll make up for it this week!
(2) Almost two weeks until Miami!!! I can't wait!
(3) I found some awesome Coach sunglasses over the weekend at the Coach Outlet at Great Lakes Crossing.
They look somewhat like this.



(4) I am 2/3 of the way through my first year of teaching. It's been a crazy year and I'd be lying if I said I haven't started the count down 'til summer vacay. ;)
I'm off to finish my lesson plans for the week. I picked up a new prep this trimester so I've had a lot of lessons to put together.
Happy Monday!!
Heather